This machine can work with plastic or glass bottles made of various materials, which with round or olive shape, such as, eyedrop bottles, oral liquid bottles, nail art paint bottles, eye shadow liquid bottles, pharma ampole bottles, perfume bottles, plant essence bottles, electronic cigarette liquid bottles, and so on.
This machine with high precision graduator driven rotary cam plate, to ensure all the motions precisely, such as, empty bottles entrying, liquid filling, inner stopper taking and pressing, exterior caps taking and screwing,etc.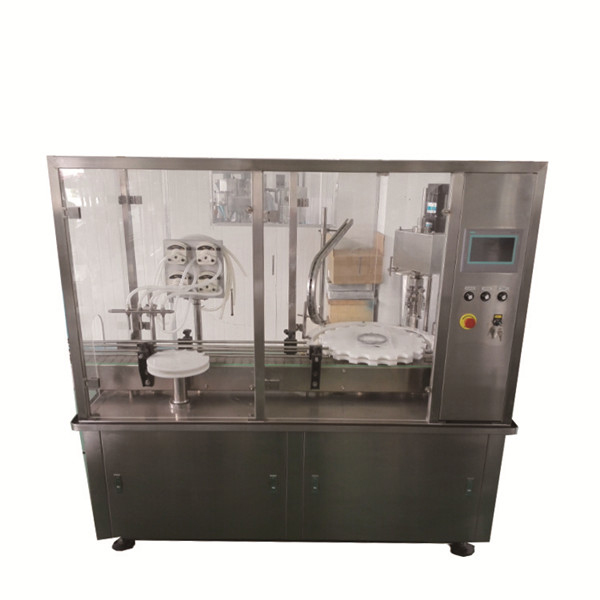 Peristaltic pump or piston pump filling, Constant torque screwing caps, Advanced PLC+touch screen operation system, No bottles no filling, no inner stopper and no exterior cap feeding. Excellent drive stability, high locating precision and high filling dosage precision. Special processed and calibrated inner stopper and exterior cap feeding devices, ensure the finished products with high qualification rate.
Depends on the customers production amount, our machines can be customized with two or four filling nozzles, one or two inner stopper feeding and pressing devices, one or two exterior cap feeding and screwing devices. And this machine can also work with automatic empty bottles unscrambler, automatic bottles labeling machine, ink-jet printer, to be automatic filling production line.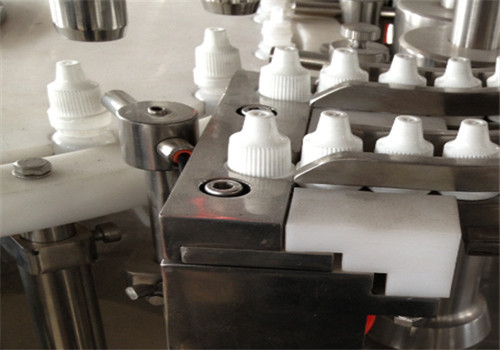 Features:
Widely applicable in foods, cosmetics, medicines, especially for high precision small dosage filling in small bottles.
Adopts advanced PLC+Touch screen operation system, easy to operate.
Pneumatic mechanic hands take the inner stoppers and exterior caps, excellent stability and high precision.
Very low noise, low energe consumption.
The parts contact products are made of SUS 304 or SUS 316L, anti-corrosion and anti-rust, organic glass entire cover, safe, sanitary and dustproof, apply with GMP standard.
Working procedure:
-Empty bottles unscrambling (Or vibrative bowl feeder)
-Empty bottles entry rotary cam plate
-Liquid filling-Inner stopper feeding and pressing
-Exterior cap feeding
-Exterior cap screwing
-Finished bottles exit
-Adhesive labels sticking-Date/Batch codes printing
-Finished products collecting.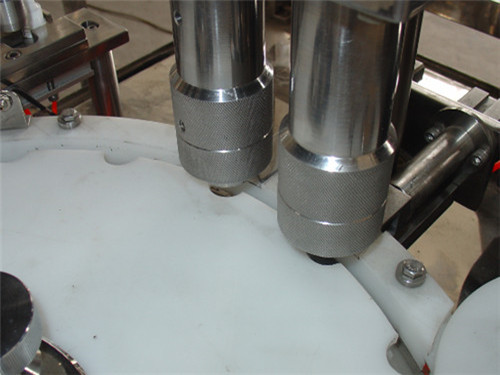 Technical parameters:
Applicable bottles size: height: 20mm-100mm, diameter: 10mm-100mm.
Applicable bottles material: Glass or plastic.
Applicable bottles shape: Round or olive, or can be customized.
Applicable products: Liquid products.
Filling volume: 5-50ml
Capacity: 20-40bottles/min (Depends on the filling volume)
Filling tolerance: ≤±1%
Power: 1.5Kw.
Voltage: AC220V, 1 phase; AC 380V, 3 phases (Can be customized).
Compressed air: 0.6-0.8Mpa., 2m³/h
Gross weight: 650Kg.
Dimension: L250*W110*H175 cm.