Detailed Product Description
Product Name:
Vertical Self-adhesive Labeling Machine
Labeling Length:
10-180mm
Machine Body:
304 Stainless Steel
Bottel Diameter:
18-100mm
Production Capacity:
30-120 Bottles/min
Screen:
Touch Screen
Requirements:
GMP Require
Controller:
PLC
High Light:
self adhesive labeling machine, fully automatic labeling machine
Automatic Labeling System Pressure Sensitive Label Applicator Round Containers Machine Labeler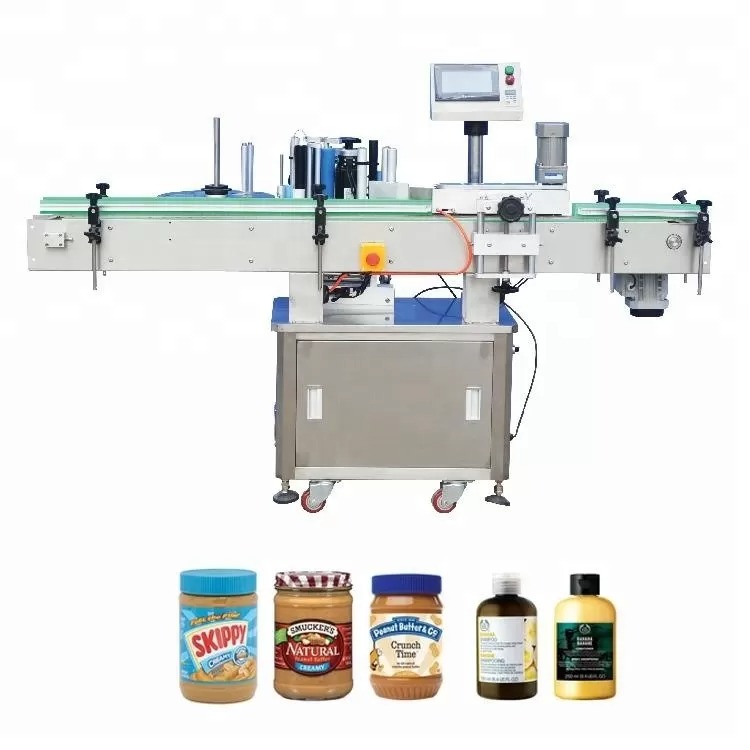 Application
Vertical Self-Adhesive Labeling Machine is mostly applicable for the wrap-around labeling of round cylindrical containers for medicine, commodity, foodstuff, cultural supplies, electronics etc industries.
Machine Discription
Apply labels with precision and ease for consistent professional-looking products with the NPACK™ LT100 1 labeler. This fully automatic labeler is designed to apply one partial or wraparound label on round containers.
Versatile design to be integrated onto existing production lines or to work as self-contained standalone units. The LT100 series labelers are simple to operate, dependable, and economical to use; to label a wide variety of round containers including plastic, metal, glass, and fiber types.
Precise and Versatile
· Servomotor-driven label application head for high-precision label positioning
· Applies both partial and wrap around labels
· Labeling speed: 30 -100 lpm (depending on materials and application)
· Container diameter range: 0.72 – 4 inches (18 – 100 mm) Ø
· Label Length range: 0.4 – 11.8 inches (10 - 300 mm) L
· Label Height range: 0.4 – 5.9 inches (10 - 150 mm) H
· Label roll inner diameter:76mm
· Label roll outer diamter:≤360mm
· Applies one pressure sensitive (self-adhesive) label per cylindrical container
· Easy bottle / label set-up and changeover
A Complete Labeling Solution
· Integrated speed adjustable container separation module to assure correct bottle timing
· Equipped with dual OMRON optical sensors for opaque and printed labels
· Mitsubishi Brand PLC and dual-language (English & Chinese) Touchscreen Weilun Speed-adjustable wraparound label module for 360° perimeter application
· Includes a 6.5' long (2 meter) speed-adjustable conveyor with rust-proof plastic flat-top chain for stable container movement
· Adjustable guide rails
· Stainless steel and anodized aluminum body for machine protection and long-term use
Other Specifications
· Voltage: 220VAC/50-60 Hz 500W
· Machine Size: 2000 x 1200 x 1350 mm H
· Machine weight: 250 Kg (550 lb)
· Packaged Size: 2170 x 1070 x 1430 mm H
· Packaged Weight: 310 Kg (682 lb)
· Voltage: 220V/1Ph/50-60Hz
Available Options (inquire for availability)
· Hot Stamp Printing coder with base (prints characters directly onto the label)
· Clear Label Sensors (capable of detecting transparent labels)
· Bottle Unscrambler/ Rotative Motorized Table (Model shown, not included with labeler)
Whether you're expanding your operations or need to replace a particular piece of equipment, we have a wide selection of dependable, high performance packaging machinery to suit your requirements and keep production running smoothly and efficiently. There are transport conveyors to securely move materials and objects, scales and counters offering standard or precision measurements and several types of filling equipment for liquids, pastes, powders, and granules.
We service business handling food, pharmaceuticals, medical equipment, paper materials, electronics, machine parts, sports equipment, agricultural products, military equipment and much more.