It is widely used to filling, stoppering and capping for flowing liquid in such industries as pharmacy, biology, food, daily necessities and cosmetics etc.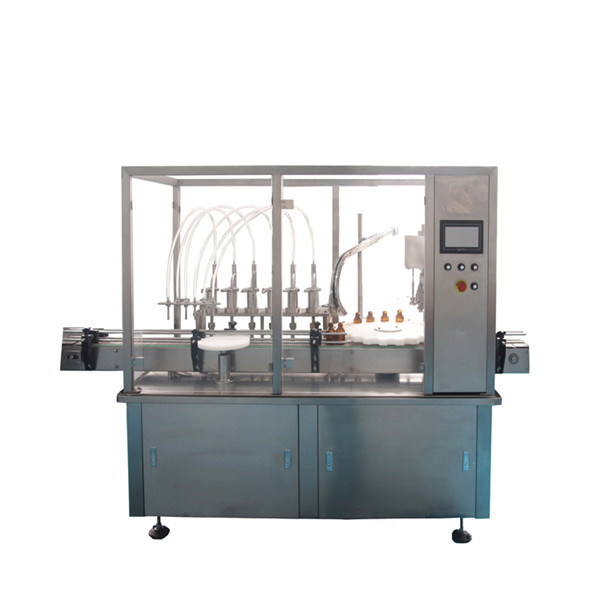 | | |
| --- | --- |
| Dimension(mm) | 1900X2600X2600 |
| Filling Range (ml) | 1-50ml |
| Filling Sped bpm | 0-100 bpm |
| Filng Accuracy (%) | +/-0.15 |
| Finished Product Ratio (%) | >99% |
| Voltge / Frequency | 220V/50Hz |
| Power | 5000W |
| Working Pressure(MPa) | 0.4-0.6 |
| Gas Consumption (M3) | 0.1-0.5 |
| Weight(KG) | 1500 |
Machine Features
1. With novel design philosophy, its manufacture, safety performance are carried out according to European standards and conform to GMP requirements as well
2. It is furnished with highly efficient filters of international famous brands to effectively ensure sterility and cleanness of class-A area. Air blower, filter and other equipment adopt sinking-type design structure to realize easy, reliable overhaul and replacement.
3. Material adding is completely isolated from operating area. Those areas requiring artificial interference are furnished with glove boxes to prevent class-A area from being destroyed.
4. Through machine-gas-electricity combination, full-automatic operation can be realized including bottles entering, filling, adding of stoppers and outer caps, caps tightening and sorting of defectives.
5. Filling adopts high-precision ceramic plunger pumps or peristaltic pump structure. High-precision filling volume, non-leakage and high efficiency are ensured through servo drive quantification.
6. Bottle mouths are added with stoppers. Outer caps adopt structure of mechanical hands to ensure accurate positioning, fast and efficient adding of caps.
7. The inside of cap tightening device adopts German torsion clutch or servo power twister to effectively ensure bottle caps are undamaged under the premise that they are tightened.
8. Filling is not conducted when bottles are not in place. Adding of outer caps is not conducted when inner stopper are not in place. Defective products are automatically sorted out via sensor testing and conveyed into defective area fro inspection, thus isolating defective products.
9. Rotary operating discs can be exchanged according to bottles of different sizes and shapes to meet user demands
10. Main actuating mechanisms of this machine all adopt servo motors in effective combination with different forms of cylinders and unique mechanical structure. It is a new generation of special filling equipment initially developed in China, with high degree of automation, high finished product ratio, wide adaptability, good stability and high output, etc.